Interferon Gamma Release Assay (IGRA) ELISA
The Tuberculosis Interferon Gamma Release Assay is a suitable in-vitro test for the detection of tuberculosis via the cellular immune response. It is a highly sensitive assay that helps detect positive animals in a herd.
The MYCOBACTERIUM BOVIS INTERFERON GAMMA RELEASE ASSAY ELISA is based on the principle that live white blood cells from an animal exposed to Mycobacterium bovis will release interferon-gamma (IFNy) in the presence of M. bovis antigens in-vitro. A comparison between the IFNy concentrations from samples that are exposed (stimulated) to M.bovis-specific antigens (BPPD) and those exposed to a placebo reagent (Nil) and/or non-specific Mycobacterium avium antigens (APPD) reveals whether an animal was previously in contact with M. bovis. The test has been validated for use in bovine blood samples and can be used for screening or confirmatory purposes.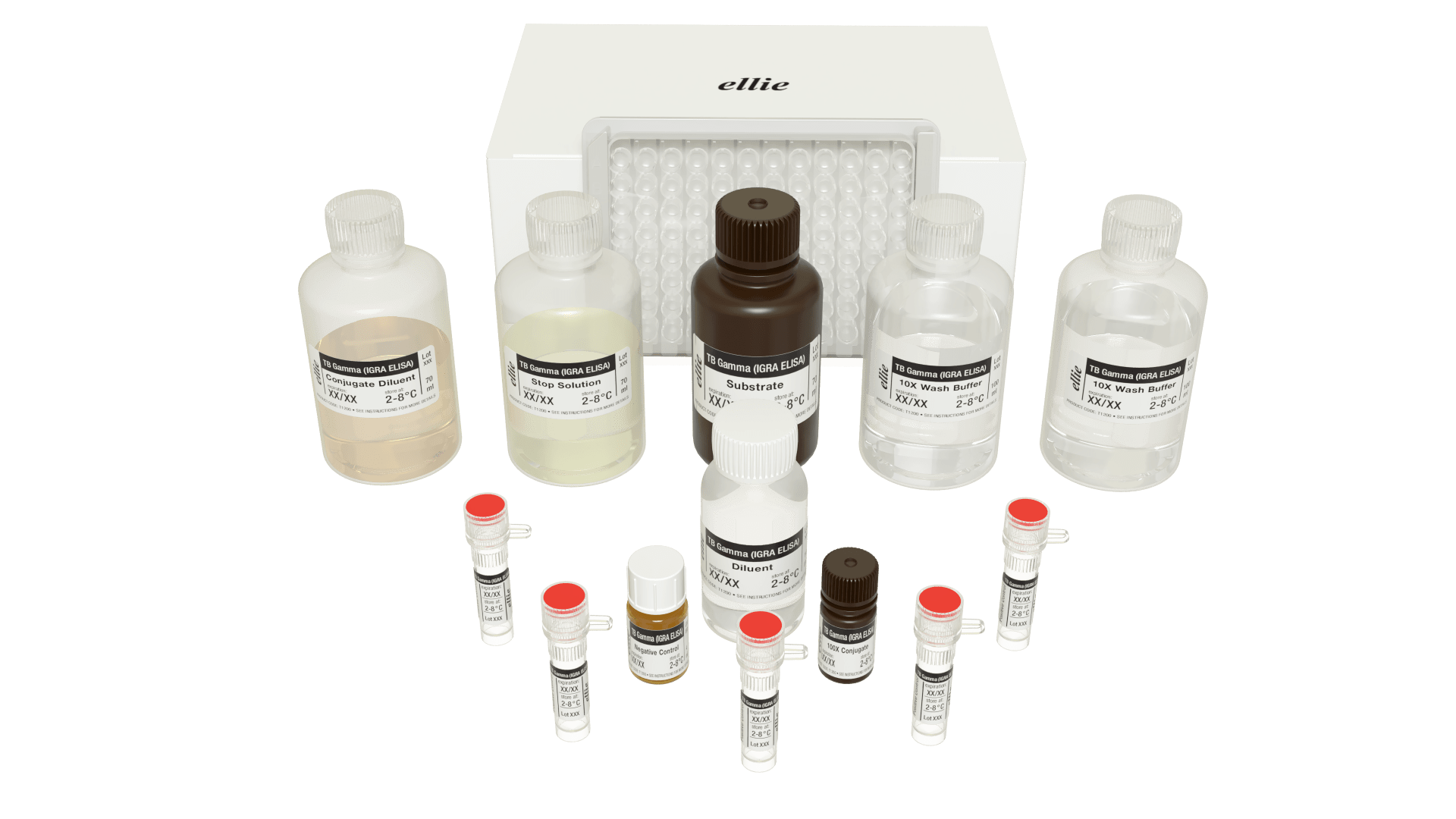 Cellular Immune Response testing is still the most important diagnostic methods for TB
For decades, TB was diagnosed using tuberculin skin testing. Positive animals were removed, and TB would be successfully eradicated over time. The Interferon Gamma Release Assay aids in this process and, when paired with newly developed antibody tests, establishes a powerful set of tools for TB eradication. 
There are many ways to implement and organize a TB testing system. TB Gamma is a more expensive tool, thus it should be used in a maximally efficient manner. Certain scenarios describe the use of TB Gamma on a skin test-negative population. Other uses are for confirmatory testing. Also, if an animal cannot be tested twice because of geography or time constraints, TB Gamma can be used instead of the skin test. In yet another scenario, TB Gamma can be used to test young animals, approximately six months of age, to verify colostrum pasteurization success and other sanitary measures intended to prevent transmission to young stock. We can provide consultation on how best to organize your testing, but not just testing; members of our staff and our collaborators can create an entire disease eradication program specific to your needs. Make the call. Let us help you.
TB Interferon Gamma Release Assay, IGRA ELISA
| | |
| --- | --- |
| Trade name | TB GAMMA |
| Technology | IGRA ELISA |
| Antigen | Purified avian and bovine tuberculin  |
| Analyte | Interferon-gamma |
| Species | Bovine |
| Samples | Li-Heparin plasma |
| Ordering info | T1200 – 2-plate and 5-plate kit |
The Interferon Gamma Release Assay (IGRA) is a highly sensitive test for bovine TB. It can be used as a replacement for the skin test. It is also recommended for animals that have tested negative on antibody and/or skin tests. Ellie's test is more reliable because it allows for on-site incubation of samples.