Test equine infectious anemia accurately in the field or lab
ACCURATE FIELD OR LABORATORY TEST
Ellie's EIA FPA is a qualitative test using Fluorescence Polarization technology, and it determines the presence of antibodies against Equine Infectious Anemia Virus in horse serum samples. Antibody presence is indicative of a prior infection with EIAV. The diagnostic test uses a peptide conjugate as a tracer. It is a simple non-subjective test.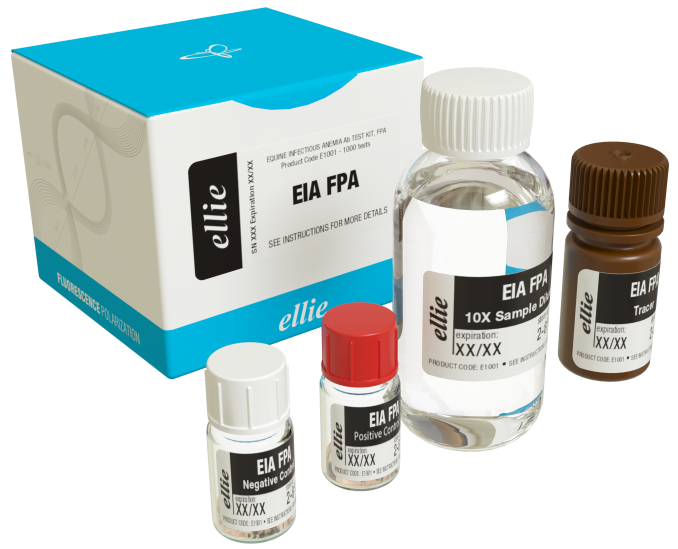 Horse serum samples
True status

Positive

Negative

Test results

Positive

56

0

Negative

0

133

Sensitivity 100

Specificity 100%
The table shows the results of a study we performed on a defined set of samples. This product typically identifies positive animals that are missed with the AGID test; this is supported by subsequent testing results.
The EIA FPA is a field and laboratory assay.
Equine Infectious Anemia Antibody Test Kit, FPA
Trade name

EIA FPA

Technology

Fluorescence Polarization Assay (FPA)

Antigen

Synthetic peptide

Analyte

Ig, all classes

Species

Equine

Samples

Serum

Ordering info

E1001-250 (250 tests kit)

E1001-1000 (1000 tests kit)
The EIA FPA is a simple, quick, and accurate assay that detects antibodies against EIA virus. It is a synthetic peptide-based fluorescence polarization assay that detects antibodies specific for viral gp45 protein. It is a non-subjective test, and it is recommended as an AGID assay replacement or as a field assay.