The FPCAL Kit is used to calibrate Sentry FP Tube instruments. The kit consists of lyophilized Low Polarization Standard, Medium Polarization Standard and 0.01M Phosphate Buffer, pH 7.2. used as reconstitution buffer for the standards.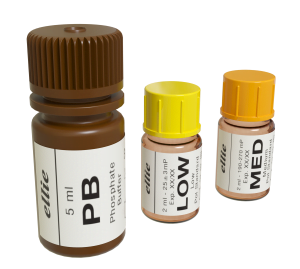 Trade Name

FP Calibration Kit

Composition

LOW low polarization standard
MED  medium polarization standard
0.01M Phosphate Buffer

Ordering Information

FPCAL (Single use FP Calibration Kit)
FPCAL standards are lyophilized. Keep refrigerated. Once reconstituted, standards can be used for at least two weeks when kept at room temperature.